'Tis the season for potlucks, buffets and other social occasions where everyone contributes one dish or bottle. If you're wondering what to bring to your next such gathering and would rather not cook, here are some great ways to cheat while also supporting one of Leeds' brilliant independent businesses.
Spread the joy with a plate of Anand Sweets
If you're looking to contribute something a little different to the usual festive fare at your next potluck, a plate of Indian sweets from Anand might be just the thing. This family-run dessert shop in Harehills takes its name from a word that means happiness or joy, and you'll find this here in the form of traditional Indian sweets that are delicious and often healthier than their Western alternatives. These include creamy barfi in flavours like coconut, chocolate, pistachio and almond, or syrupy and fragrant balls of gulab jamun. Anand also sells bhallu shahi, a kind of Indian doughnut, along with kaju (cashew) rolls and slices. You can call into their shop in Harehills to make your selection or, if you've accidentally turned up to the party empty handed, your sweets can be brought to you by Deliveroo.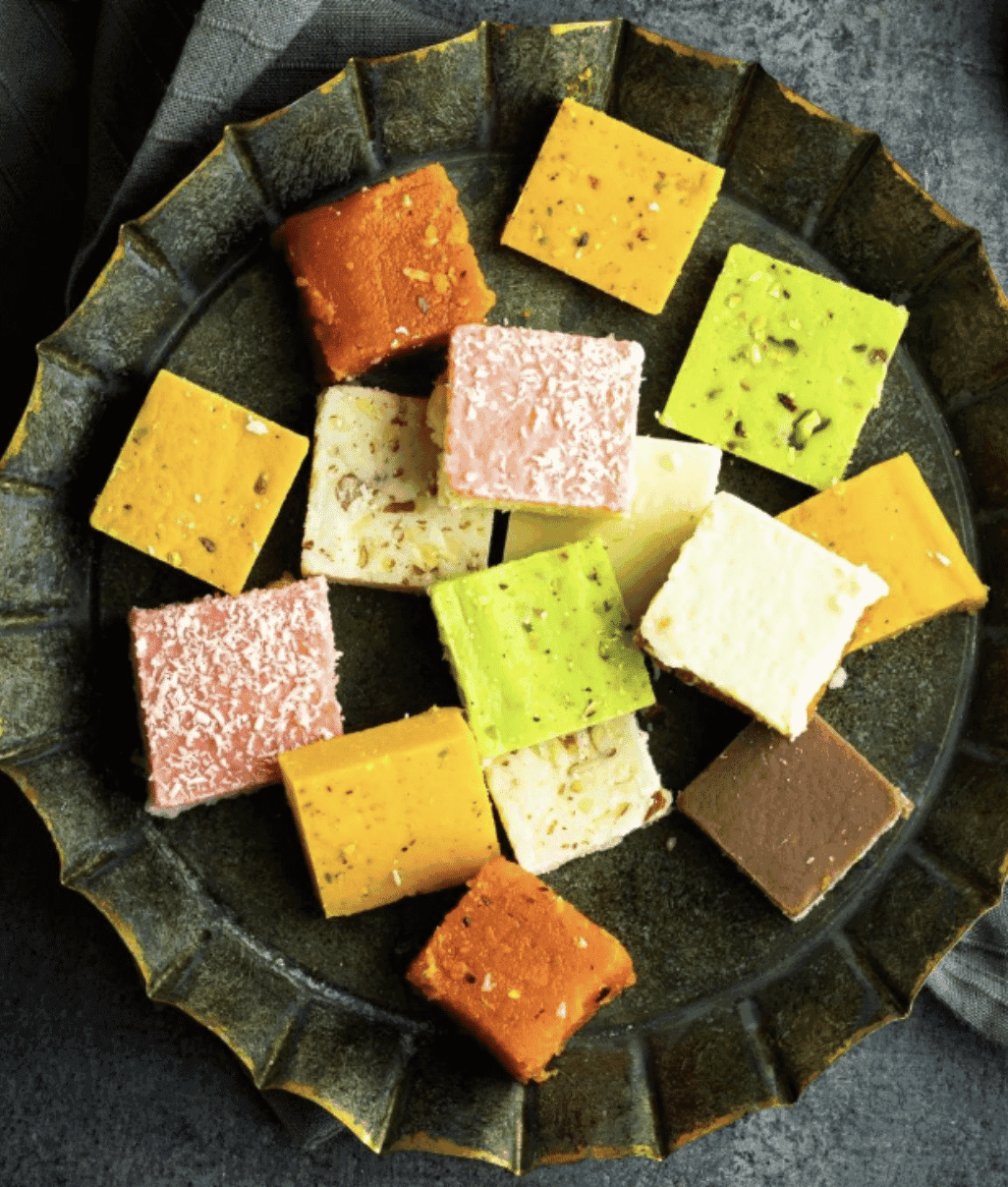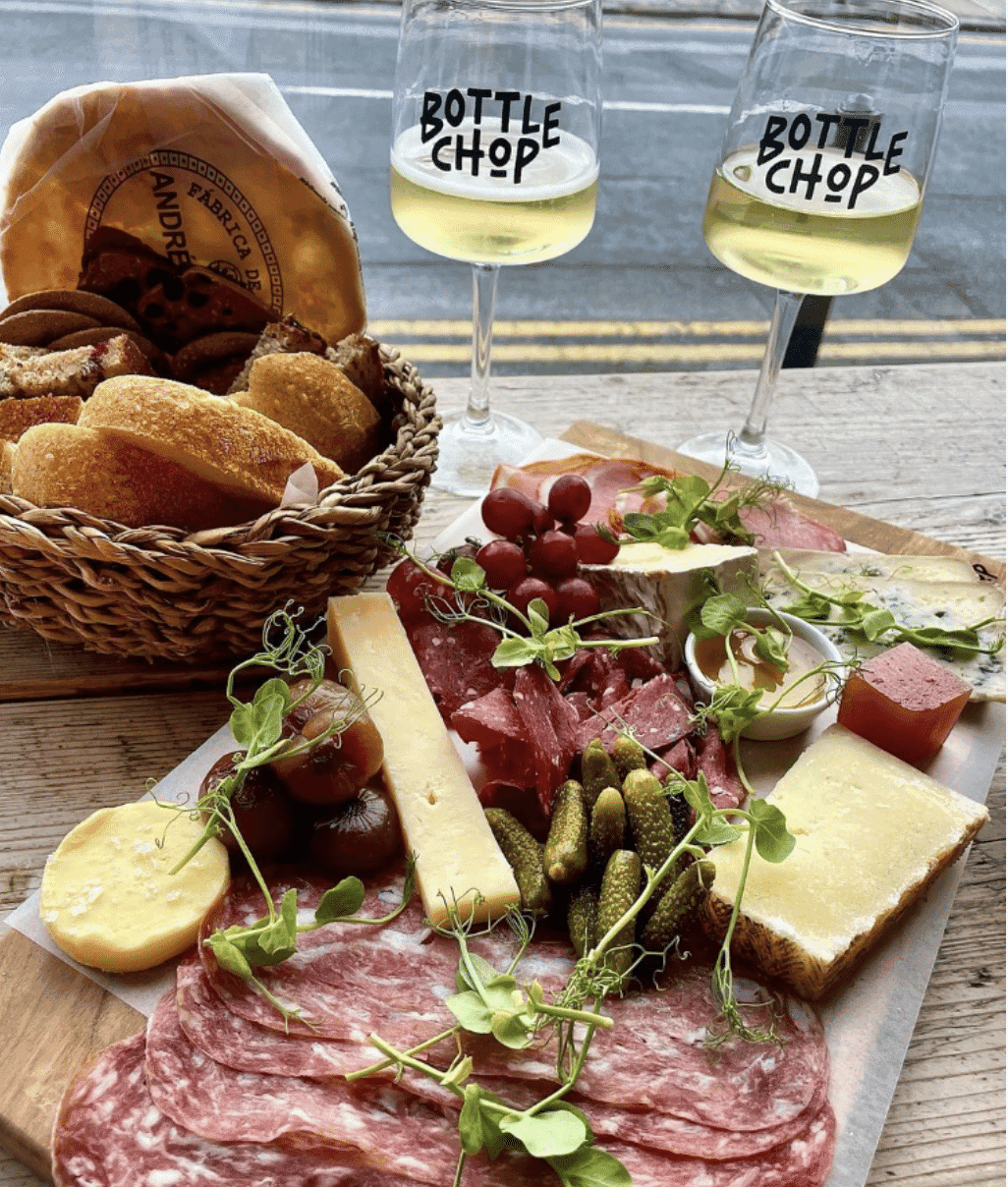 Get a hot rotisserie chicken from the Empire Cafe
Described by food critic Jay Rayner as a 'fancy caff' with a 'modern flair and reach that does God's own country proud', the Empire Cafe has been feeding Leeds residents under various different names and owners for more than 120 years. This popular cafe in Fish Street – an alley between Kirkgate and King Edward Street – is perhaps best known for its mouthwatering rotisserie chicken, which is cooked all day long on a German 'wall of flame' spit. These can be bought whole from the Empire's kitchen hatch and are sure to be a hit at any potluck.
Curate the perfect cheeseboard with the help of Bottle Chop
If cheese is what you're looking for, Bottle Chop is the place to head. This deli in Headingley is known for its organic and natural wines as well as its excellent cheese counter. Whether you prefer soft or hard, mould ripened, cow's, ewe's or goat's cheese, there really is something here to please everyone. Bottle Chop also stocks a selection of yummy charcuterie and olives to take away, all of which can be purchased in quantities of your choosing. Why not pick up some Peter's Yard sourdough crackers or a jar of Reet Yorkshire relish while you're at it?
Treat them to luxury chocolates from Marples Sweets
Founded in 2005, Marples in Horsforth sells ice cream, coffee, sweets and scrumptious luxury chocolates. This characterful little shop's shelves are lined with bars and packets from some of the best confectionery brands in the UK and beyond, plus marzipan fruits and many other seasonal offerings. You can order a prefilled box of chocolates online for collection or call in to pick out your own favourites from their well-stocked loose chocolate counter, which features white, milk and dark chocolates and truffles with tempting fillings like creme brulee or gin and tonic.
Bring a box of bakes from La Bottega Milanese
If you're heading to a breakfast or brunch time get together, a box of pastries will always go down well. La Bottega Milanese has been bringing authentic Italian cafe culture to Leeds since 2009, and it now has two stylish espresso bars in Bond Court and Park House where you can choose from an ever-changing selection of sweet Italian snacks. These include cannoli, almond croissants, rich tiramisu and flaky pasteis de nata. You could even enjoy a cup of La Bottega's award-winning coffee while deciding which cakes to take away with you.
BYOB with a bottle of your favourite tipple from Latitude Wine & Liquor Merchants
Even if the meal you've been invited to isn't a potluck, it's still polite to bring a bottle. At Latitude Wine & Liquor Merchants you'll find hundreds of different wines from all around the world. If you're looking for your favourite drink or are hoping for some guidance to help you discover one, the friendly wine specialists here are always happy to give their expert advice. Their shop under the railway arches on Cherry Tree Walk also stocks a wide range of spirits, from the classics like gin, rum and vodka to harder to find options such as cachaca, absinthe and pisco.
Add some spice to your party with a combo from Bundobust
A firm favourite when it comes to group meals and work parties, Bundobust sells Indian street food that's designed to be shared. If you'd like to bring a few flavourful dishes to your next potluck, this Leeds restaurant makes it easy. You can place an order on their website and collect it from the restaurant on Mill Hill. On Bundobust's menu you'll find combos for between two and four people, and these will likely go much further when added to a buffet table. There's also a vegan combo (all of Bundobust's food is vegetarian) and the epic 'Bundo Combo' – a full meal for six-eight people that includes every savoury dish on the menu except for the Bhaji Butty and Additionals.
Pick up a pizza from Pizza Freak
Pizza is always a crowd pleaser and if you like to get adventurous with your toppings you should try Pizza Freak. This Burley based restaurant's NYC and Detroit-style pizzas are made with a malted dough that's fermented for 72 hours to give a thick, chewy crust. This is then topped with all kinds of good stuff, including Pizza Freak's own pastrami, pulled pork and secret recipe meatballs. Among the unique pizzas sold here are the 'Sweet Mary Jane' with crispy pepperoni, hot honey, jalapenos and CBD oil on a rich tomato base, and the fabulous 'Duchess of Bay Ridge', which features ham hock cooked in Kirkstall Brewery's Virtuous IPA, mozzarella, pecorino romano and dolcelatte. Pizza Freak also offers plenty of vegetarian options along with a vegan special. You can pick your pizza up from their restaurant on Kirkstall Road or have it delivered from Deliveroo, Uber Eats or Just Eat.
Images- @_anandsweets_, @bottlechop, @labottegamilanese